To achieve net Zero, Standard Chartered Bank Cameroon Educates Students on climate change effects.
Standard Chartered Bank Cameroon,  has held  educative  talks with secondary school students on the   ingoing changes on the climate, and its  effects on the environment. This was during a recent conference which took place at the Olive Bilingual School  located in Bonaberi, Douala iv subdivision.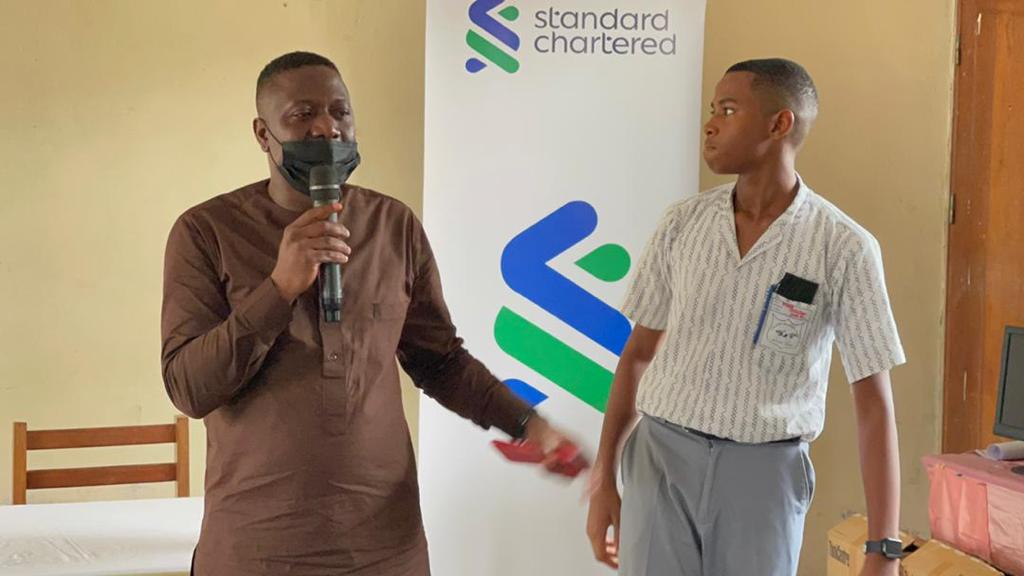 The conference, was part of the bank's   » Employee Volunteering » initiative for the  year 2022, in  collaboration with Technology and Innovation teams across the West Africa Cluster.
It was a hybrid event with students from across Cameroon, Ghana, Sierra Leonne, and Gambia , who joined the conversation virtually.
According to Rachael Asonibare, Standard Chartered's executive  ,empowering young people with adequate information about the devastating effects of climate change to the environment and human health gives them the opportunity to become "change agents" who will propagate the message to their families,  friends and loved ones.
She , spoke widely on  the bank's stands  on working across markets to reduce carbon-emission without slowing down the economy.
The participating students were  provided with insightful information  on the immense opportunities for wealth creation through recycling, highlights on how the bank is working towards achieving net zero, while helping the students to better understand the role individuals and organisations can play towards reversing the negative effects of human activities on the climate.
As the keynote speaker , the General Manager of Lagos State Environmental Protection Agency LASEPA, Dr. Fasawe highlighted some of the strategic initiatives being done within the metropolis by the agency and commended Standard Chartered for complying with the objectives of the agency and for being at the forefront of implementing several of these initiatives at various locations.
'We are very passionate about information, education and communication. Opportunities like these where we get to collaborate with the private sectors to engage with the country's future leaders, give us an opportunity to pass on best practices and ideas for innovation towards ensuring a better environment for future generations. Dr Fasawe said…
« Like Standard Chartered, we also believe that achieving Net-zero is possible. Emissions into the environment are expected but our collective responsibility is to identify and implement sustainable strategies that support renewable energy, cleaning up the emissions environment and recycling. Simple tasks like ditching plastic for glass, planting trees for carbon sinking and walking or cycling over driving short distances, are just some of the ways we can contribute towards a cleaner healthier environment. She continued
The bank's top management , recognized  that climate change is one of the greatest challenges plaguing the  planet earth . the  has been a glaringly negative impact on the environment, human health and the economy .
Thus,  the bank took a bold stand and is commited to « accelerating zero » through awareness sessions, sustainable financing, implementation of best practices aiming at carbon emissions reduction to  put the world and Cameroon  on a sustainable path to net zero by 2050.